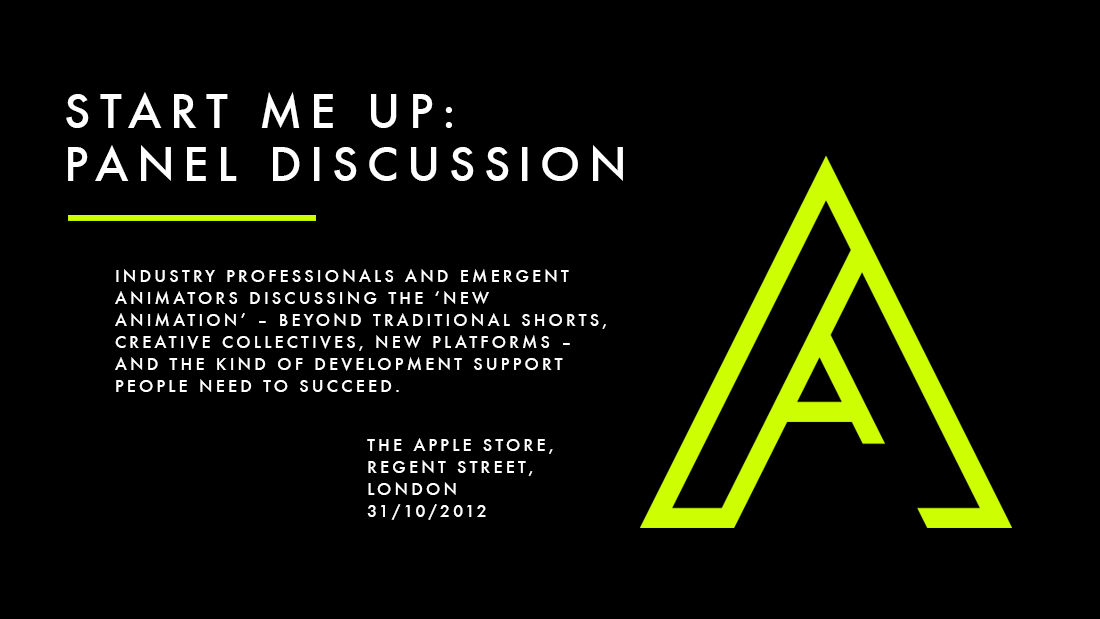 In partnership with London College of Communication, Jerwood Charitable Foundation and London International Animation Festival, Animate Projects hosted the first Accelerate event, a free panel discussion at Apple Store Regent Street on the opportunities and challenges for young independent animators. We will be publishing a transcript of the discussion soon.
The event featured a mix of industry professionals and emergent animators discussing the 'new animation' – beyond traditional shorts, creative collectives, new platforms – and the kind of development support people need to succeed.
Chaired by Abigail Addison, Associate Director, Animate Projects.
Speakers:
Phoebe Boswell
Phoebe is an artist who has exhibited work at the Royal Academy, the Old Vic Tunnels, the Mall Galleries, and the Bahrain National Museum. Phoebe has been nominated for a number of awards, including the Arts Foundation's Fellowship in Animation, and has recently been awarded the first Sky Arts Ignition Futures Fund Award.
Claire Spencer Cook
Claire is a Senior Producer and Curator for interactive projects, including installations, events and web/mobile. At Nexus Interactive Arts, Claire is responsible for developing original IP with interaction designers and animation directors as well as producing interactive productions for commercial and arts commissions.
Joseph Pelling
Joseph is an animation and short film director based in London. His work and the work he has made with THIS IS IT Collective has been showcased around the world at numerous festivals including Sundance, SXSW, Pictoplasma, Onedotzero and LAFF as well as being aired on Channel 4 and MTV.
Susi Wilkinson
Susi is a freelance animator and co-founder of production company Slomo. She has over a decade of experience in the animation industry working in short film, commercials, branding, music videos, mobile phone and web. Susi is Senior Lecturer in Animation at the London College of Communication.
Accelerate Animation
Start Me Up: panel discussion
Apple Store, Regent Street, London
31 October 2012
The UK has a really amazing talent base that is really good at telling stories. A lot of very ambitious projects get made here for nothing because people love what they're doing so much that they're doing it regardless. That gets noticed, and then they get hoovered up by LA. Claire Spencer Cook
A panel discussion on the opportunities and challenges for young independent animators, organised by Animate Projects in partnership with London College of Communication, Jerwood Charitable Foundation and London International Animation Festival. The panel featured Animate's Abigail Addison, artist Phoebe Boswell, producer Claire Spencer Cook (Nexus Interactive), animator Joseph Pelling, and animator and lecturer Susi Wilkinson.
 Summary points:
Self belief is key – the industry is looking to support talented young animators, you need to believe that you have something unique to offer
Audience – Always consider who the audience is for your project, test your idea out on someone new to it to see if it makes sense
Collaboration with others – is essential for professional development. You don't necessarily need a physical studio space to set up a collective, more and more projects these days are being produced through virtual collaborations
Networking is crucial – make the most of live projects, work experience and mentoring opportunities whilst at University so you can enter the industry with contacts who can help you
Connect with people you admire – research into animators and studios that you would like to work with and contact them, get on their radar and be tenacious, often it's who you know that can help you progress in your career
Use LinkedIn – a great way to develop a network, to highlight your skills for potential collaborators, and to approach people with specific projects or queries or referral requests
Sell yourself online – make sure you have a good showreel, put up excerpts of your work to show your different technical skills
Make use of film festivals – send your graduation film out to lots of festivals, and only put up an excerpt of your graduation film online until it has done the festival circuit, attend as many festivals as you can to make connections with other filmmakers and industry professionals
Animation careers – consider what role you would be good at and would like to try within the industry, as there are many, varied roles (designers, art directors, VFX artists, 3D animators, storyboard artists etc) – consider what do you want to do, what do you need to learn to do it?
The industry needs to… – provide opportunities for graduates to be funded to make their next film, as the UK has an incredible talent base that ends up going elsewhere to find funding. More should be done within Universities to organise work experience and mentoring for students
You can read a full transcription of the discussion here.