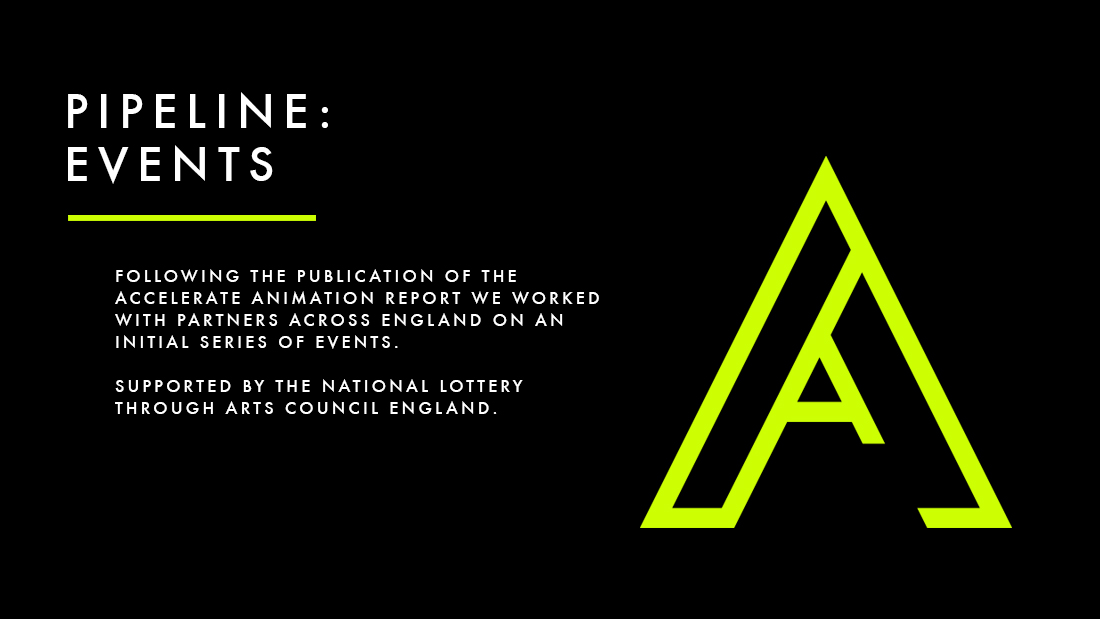 Following the publication of the Accelerate Animation report we worked with partners across England on an initial series of events. Supported by the National Lottery through Arts Council England.
14 May 2014: Pipeline: Powered by Pecha Kucha at London College of Communication
In the Accelerate report survey, one of the key things that animators told us was that the most useful things they have learned in their careers has been from other animators and mentors. Academy Award nominated producer Sue Goffe at Studio AKA said: 'Seek out anyone prepared to talk about or teach you about their work and process and how they do it. Listen to a fraction of the stories that came before yours and you will benefit enormously.'
The Pipeline: Powered by PechaKucha invited 12 animators to share their knowledge, experience and ideas. Telling their own stories of how they have been inspired and influenced as they gained their own creative skills and learned their craft and business.
Speakers: Katerina Athanasopoulou, Phoebe Boswell, Emma Calder, Stephen Cavalier, Emily & Anne, Jonathan Hodgson, Greet Kallikorm, Jim Le Fevre, Mariano Melman and Nicola Schauerman.
You can watch the videos here
9 July 2014: Show Me the Animation: Dragons' Den, at The Cube Cinema, Bristol
On the night creatives pitched five projects concepts, encompassing a range of creative practice from film, animation and games, to a select panel of 'dragons' from the industry – Sarah Cox (Arthur Cox), Miles Bullough (Wildseed) and Vicky Brophy (Wonky Films).

12 February 2014: Max Hattler masterclass for Animex at mima, Middlesburgh
For Animex 2014, artist Max Hattler shared his experience of producing digital animated work for different platforms and exhibition spaces.
animex.tees.ac.uk/
www.visitmima.com
23 February 2014: Heading out on the animation highway: a panel at BFI Future Film Festival, London
At the BFI Future Film Festival we presented a panel of of animators and producers who are doing just that, and who explained the work they do, how they get it, and how they balance commercial and personal creative projects. Speakers: Vicky Brophy, Mike Moloney and Marie-Margaux Tsakiri-Scanatovits. Chaired by Abigail Addison, Animate Projects.
26 March 2014: Studio Animators in Conversation at Flatpack Film Festival, Birmingham
BAFTA-award winner Will Anderson and Ainslie Henderson, Cyriak, Chris Randall (Second Home Studios) and Eimhin McNamara discussed how they deal with the business and organisation of animation, focussing on each of their studios and how to make the transition from aspiring bedroom operation to fully-fledged animation business. Each of the panellists will offer advice on balancing commercial and non-commercial work, the importance of collaborating and working in collectives, and the practical challenges of running your own studio.
28 – 29 March 2014: Format International Portfolio Review, QUAD, Derby
Animate's Gary Thomas was a reviewer and gave at talk on how artists can better present themselves.